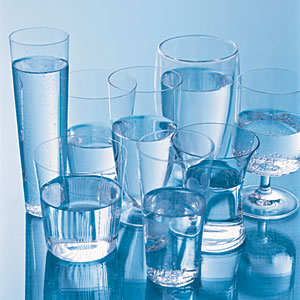 Amidst the hustle and bustle of daily life, it's easy to forget about staying hydrated. After all, drinking water
isn't exactly the most fun thing to do. Research suggests that the easiest way to learn new habits is by incorporating them into your existing routines.  This is what we've done with these 7 easy ways to make sure you're staying hydrated!
1. If you eat, drink
An easy way to start drinking water
more often is to have a glass before every meal. It's a simple transition, because most likely you drink something while you're eating. Drinking water also helps you eat less, so your waistline will thank you. This trick applies
to drinking as well – try having a glass of water for every cocktail or beer you order. It'll help with your hangovers!
2. Take it with you
You can't drink water
if you don't have access. Carrying your own water bottle is a great way to avoid costly, wasteful bottled water. It's also important to avoid plastic, which can leach harmful BPAs. Our Evolution Healthworks Glass DrinkSafes are perfect on-the-go bottles because they have a neoprene sleeve with handles.
3. Eat your veggies!
You don't always have to drink in order to stay hydrated. Many vegetables and fruits are packed with water, so you can stay hydrated without chugging all day!
4. Set an alarm
If you're anything like us, you and your smartphone are inseparable. Let's face it: phones are becoming our appendages, so we might as well use them to our benefit. It's simple – go to your Calendar app and set alerts for several times tomorrow (i.e. 9am, 12pm, 3pm, 6pm, 9pm) with any label – maybe a Wave emoji? Then, click
on the Repeat option and set it to Every Day. Now, as you're Buzzfeeding your day away, you'll be reminded to stay hydrated!
5. Make a game out of it
Like playing games
? Of course you do. Like competition? Of course you do. Studies have shown that adding a social or competitive aspect to your goals leads to much higher levels of achievement. Think Weight Watchers meetings. Or people posting their workout numbers on social media every day. Adding this layer of social pressure leads to much better results.
Now you don't have to throw it in everyone's faces, but you can start
a mini-competition between yourself and a few friends. Just set some stakes (first round of drinks?) and keep track. Whoever hits 8 glasses a day for the longest wins!
6. Get your money's worth
Here at Evolution Healthworks, we've had numerous customers tell us that they started
drinking much more
water after they purchased one of our home water filtration systems. We all like to get our money's worth. If you buy a gym membership
, you're going to use it. The same goes for drinking water systems – the only difference is its much easier to drink more water than it is to go to the gym. Even better, you'll see results much faster.
7. Reward yourself
At the end of the day, it's important to remember that we're all humans. The reason you're dehydrated in the first place is because life is hectic and it's easy to forget to drink water
. So when you succeed, make sure to reward yourself. We'll let you decide how to do this, but whatever it is – make it worth your while to stay hydrated!