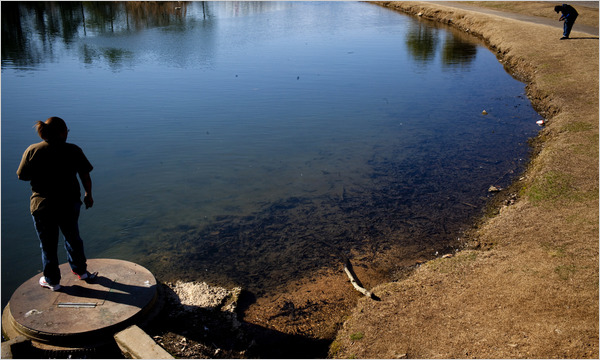 Companies that have spilled oil, carcinogens and dangerous bacteria into lakes, rivers and other waters are not being prosecuted, according to Environmental Protection Agency regulators working on those cases, who estimate that more than 1,500 major pollution investigations have been discontinued or shelved in the last four years.
The Clean Water Act was intended to end dangerous water pollution by regulating every major polluter. But today, regulators may be unable to prosecute as many as half of the nation's largest known polluters because officials lack jurisdiction or because proving jurisdiction would be overwhelmingly difficult or time consuming, according to midlevel officials
About 117 million Americans get their drinking water from sources fed by waters that are vulnerable to exclusion from the Clean Water Act, according to E.P.A. reports but midlevel E.P.A. officials said that internal studies indicated that as many as 45 percent of major polluters might be either outside regulatory reach or in areas where proving jurisdiction is overwhelmingly difficult
Cannon Air Force Base near Clovis, N.M., for instance, recently informed E.P.A. officials that it no longer considered itself subject to the act. It dumps wastewater — containing bacteria and human sewage — into a lake on the base.
More than 200 oil spill cases were delayed as of 2008, according to a memorandum written by an E.P.A. official and collected by Congressional investigators. And even as the number of facilities violating the Clean Water Act has steadily increased each year, E.P.A. judicial actions against major polluters have fallen by almost half since the Supreme Court rulings, according to an analysis of E.P.A. data by The New York Times.
The Clean Water Act does not directly deal with drinking water. Rather, it was meant to regulate the polluters that contaminated the waterways that supplied many towns and cities with tap water.
The two Supreme Court decisions at issue — Solid Waste Agency of Northern Cook County v. United States Army Corps of Engineers in 2001 and Rapanos v. United States in 2006 — focused on the federal government's jurisdiction over various wetlands. In both cases, dissenting justices warned that limiting the power of the federal government would weaken its ability to combat water pollution.
In 2007, for instance, after a pipe manufacturer in Alabama, a division of McWane Inc., was convicted and fined millions of dollars for dumping oil, lead, zinc and other chemicals into a large creek, an appellate court overturned that conviction and fine, ruling that the Supreme Court precedent exempted the waterway from the Clean Water Act. The company eventually settled by agreeing to pay a smaller amount and submit to probation.
Via: New York Times
Check out our PRODUCTS on how to combat these issues.