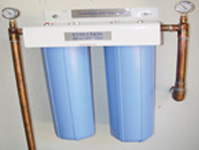 Harmful chemicals evaporate into the air in your house from the shower, toilet, and sink.
A leading cause of asthma and bronchitis is from air quality. When water contaminants are released into the air, poor air quality is the result.
The standard shower filter, or even a countertop water filter can not protect the house from contaminants evaporating into the air.
Shower filters, because they must filter water at extreme temperatures, are not completely effective at removing all dangerous contaminants.
Skin rashes can and other types of skin irritations can occur because chlorine and volatile organic contaminants such as tri-halomethanes are embedded in your clothes when washed in chlorinated water.
The dishwasher releases more chlorine into the air than any other water source in the house, besides the shower.
The only way to make sure you are getting pure, clean, filtered water from every source in the house is a whole home system.
While not to the level of a EVO FILTER, our Whole Home System purifies the drinking water and rids contamination to a very high level.
Dermal absorption and inhalation are two ways the 2100 known water contaminants can make there ways into our bodies besides drinking the actual water.
Avoiding tap water in exchange for bottled water is not a safe trade off. Check out 3 Reasons To Never Drink Bottled Water Again to learn more
Our EVOLUTION WHOLE HOME SYSTEM provides you with the solution to these issues. Our system removes chlorine and other dangerous components in your water such as fluoride, VOC (volatile organic compounds), sediment and turbidity. The Evolution Whole Home System is the best option to making sure you and your family are living in the most healthy, safe way.