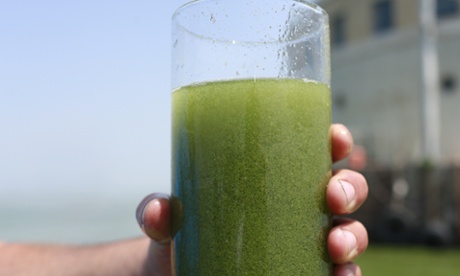 Toledo, Ohio's weekend-long drinking water scare came to an end this morning, but this Midwestern city's water woes are far from over.
The buzz word in Toledo over the weekend was microcystin, referring to a deadly toxin found in blue-green algae blooms. Dangerous levels of the substance in Toledo's drinking water led to a advisory against drinking, brushing teeth or bathing in city water.
While death is rare in connection with the toxin, it did cause 75 deaths in Brazil in 1995. Microcystin can also cause liver malfunction, diarrhea and vomiting.
This weekend's scare was a result of widespread algal blooms in the Maumee Bay area of Lake Erie, Toledo's main water source. The blooms are not, however, the result of a natural disaster; Toledo's water crisis is the first of what will likely be many man-made water crises related to unnatural growth in Lake Erie.
The culprit
Algal blooms occur as a result of an inordinate amount of fertilizer flowing into Lake Erie from farms on the watershed.
86% of the fertilizer used on farms in Ohio, Indiana and Michigan is in the form of phosphorus-packed pellets.
The use of fertilizer isn't necessarily dangerous on its own, but a popular agricultural practice in the Lake Erie region called no-till farming can have some stark unintended consequences.
In order to prevent erosion, farmers avoid plowing their fields, leaving fertilizer pellets on the surface, ready to be washed away. This is where nature comes in. Heavy rains easily wash away about 1 pound per acre of fertilizer into the Maumee River, which feeds into Maumee Bay.
Just as phosphorus is intended to fuel crop growth, it feeds algae in Lake Erie, leading to toxic algal blooms.
A recurring problem
Algal blooms are nothing new in Lake Erie. In the 1960s, rampant agricultural and industrial pollution – to the tune of 64 million pounds of phosphorus per year – fed algal blooms.
In addition to contaminating Toledo's water supply, the growth led to seriously damaged marine life, a pressure point thanks to the multi-billion dollar Lake Erie tourism industry. U.S. and Canada officials teamed up and spent $8 billion on sewage plant upgrades and cut the amount of phosphates allowed in household products.
It seems obvious that this sixth straight year of increasingly widespread algal blooms necessitates some governmental intervention similar to that seen in the 70s and 80s.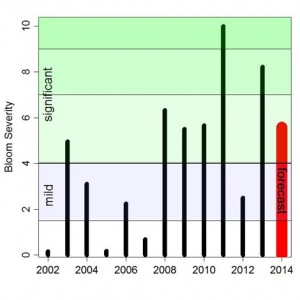 Today, a financial commitment of this stature (which, we might add, would be significantly higher considering inflation) would require much more than Toledo opening her pocket book. Farmers in Ohio as well as Indiana and Michigan (who share the same watershed), would have to commit to cutting fertilizer use or finding an alternative to no-till farming that would also not contribute to erosion. This is a highly unlikely outcome unless officials agree to compensate the farmers who will have to make significant changes to their practices.
In fewer words, don't expect a solution any time soon.
This is not the end
Lake Erie's science-fiction-style neon green takeover this past weekend is unfortunately going to be a familiar scene in lakes across the globe. A 2012 report suggested that algal blooms will be "one of the most serious health risks of the 21st century," appearing in China, Japan, Brazil and Australia. In the US alone, more than 40,000 large lakes may contain microcystin.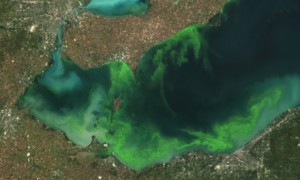 With the rising importance of providing food for a booming population and an extreme water shortage hitting America's largest agriculture-producing state, we can only expect use of phosphorus-laden fertilizers to continue.
Rising temperatures have lead to more frequent and volatile storms, carrying an increasing amount of phosphorus into water sources. Toxic algae blooms thrive in higher temperatures.
The problem is complicated further by foreign species such as Lake Erie's zebra mussels, which eat non-toxic competitors to blue-green algae and excrete more phosphorus for the toxic algae to feast on.
Lesson learned
The recurring theme every time a water crisis arises as a result of preventable human actions is that it is the citizen's responsibility to care for his or her own water.
While a municipality's first interest should always be its own people, we see time and again that political complications often take the front seat. This current crisis will likely be relegated to the back burner until elections have passed.
In the mean time, we recommend writing your local representative and ask about what your municipality is doing to avoid the oncoming dangers of algal blooms. Also, consider a drinking water system to protect yourself and your family from future water crises.