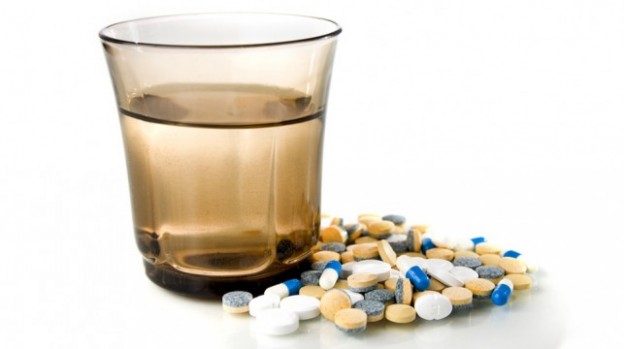 When was the last time you drank shampoo? How about painkillers or birth control? Statistically, you consumed all of the above recently, whether you wanted to or not.
Researchers have found antiseptics, pharmaceuticals, detergents and a number of other products everywhere they've looked for them in our water supplies.
According to a study published by the EPA, the nation's water sources tested positive for dangerous pharmaceuticals such as oxycodone, high-blood pressure medications and antidepressants.
Water treatment plants are not required to test for or monitor levels of these so-called "emerging contaminants" in our drinking water. Some of the products – such as shampoo and dish detergent – have been in our water supplies for decades, but skyrocketing rates of prescription drug use and abuse in the U.S. are leading to other contaminants that didn't used to pollute our water.
In fact, a recent Mayo Clinic study determined that nearly 70% of Americans take prescription drugs. Many people flush their old and unused pharmaceuticals. The only proper way to dispose of old prescription or over-the-counter meds is to take them to a pharmacist. This doesn't prevent all pharmaceuticals from getting into our water, though. We also urinate and otherwise excrete trace amounts of drugs and antibiotics into drains and toilets.
While emerging contaminants are not currently regulated, but this does not mean they don't pose a risk. It's unclear how emerging contaminants in drinking water affect our health, but it's an area of growing concern among health officials.
One medication of which we know some effects is birth control. This is because hormones work at very low concentrations in the human body, suggesting that birth control can affect our bodies even though it shows up in low concentrations in our water. This possibility was highlighted recently when fish in the Potomac River were found to have both male and female sex glands after exposure to estrogen.
Humans have been lucky to not experience such extreme consequences, but the fact that fish are absorbing pharmaceuticals from human wastewater and suffering mutations suggests problems down the line. It may also come full circle, as we are likely to consume the same contaminants with our seafood.
While healthy adults have sophisticated detoxification processes that may protect them from emerging contaminants for the time being, pregnant women and children are much more susceptible.
Home drinking water filters are a good way to cut down the amount of emerging contaminants in your tap water, according to Timothy Bartrand, PhD, a postdoctoral fellow at Drexel University, Philadelphia, who worked with the National Science Foundation (NSF) on drinking water research.
We encourage you to ask your water authority what it is doing to keep you safe from emerging contaminants. The number for the San Diego County Water Authority is (858) 522-6600.
Also, consider using an Evolution Drinking Water System in your home to not only cut down on emerging contaminants, but also add vital trace minerals to your family's drinking, cooking and coffee/tea brewing water.