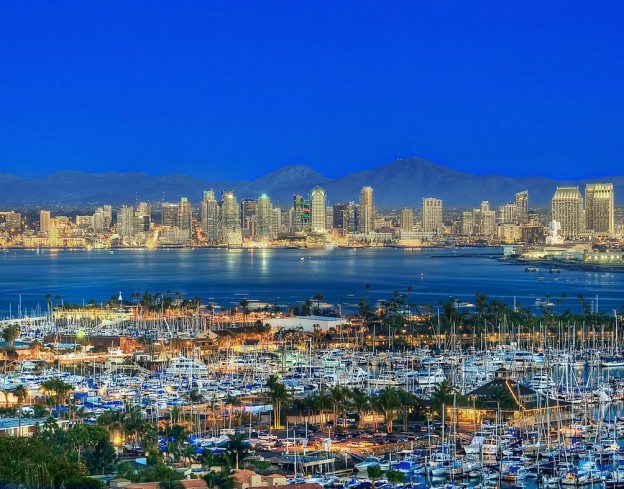 If you didn't already know (and if you live here, you know) San Diego has some very subpar tap water. In fact, it has some of the worst tap water in the country, according to a study by the Environmental Working Group (EWG). It's a shame that such a beautiful city nestled up to a pristine blue ocean has tainted drinking water.
It's easy to complain about the water here, but it's also important to understand why the water quality is so poor and the effects it can have on our health and well-being.
This information is pertinent for many people outside of San Diego, too. There have been a number of incidents in the past year compromising drinking water supplies across the country.
Why San Diego?
With the ocean down the street, it's easy to forget that San Diego is actually in a desert. If you know one thing about deserts, it's that there is very little water. We're still some time away from desalination plants (like the one in construction in Carlsbad) being a significant source of drinking water. Thus, we get our water from thousands of miles away.
Our two main sources are the Colorado River and the California State Water Project in Northern California. There are a number of issues with each of these sources.
The Colorado River provides the majority (60%) of San Diego's water. It runs through canyons and rocks which deposit volatile organic chemicals.
20% of San Diego's water comes from the California Water Project in Northern California, the hotbed of agriculture for the whole country. The problem with this is the vast amount of fertilizers used on these farms. Fertilizers contain nitrates and nitrites, which make their way into the water table and into our tap water.
These problems aren't unique to San Diego, though. A five-year study by the EPA found more than 300 contaminants in tap water across California. And worse, California water authorities were cited for 5,514 federal and state violations over that five-year period.
What are the effects of contaminated tap water?
Everything. Pollutants in your tap water are just as bad as they sound.
Below are some of the worst offenders present in San Diego's water along with their health effects.
Arsenic – Skin damage, circulatory problems, increased risk of cancer
Asbestos (from the cement in water mains) – Increased risk of cancer and intestinal polyps
Lead – Impaired mental and physical development in children, attention and learning deficits, high blood pressure
Nitrates/Nitrites – Oxygen distribution problems, Blue Baby Syndrome
What can we do?
It's easy to be alarmed at the quality of our tap water, but it's important to take steps toward making it safer. The government is too strapped for cash and too slow-moving to take the initiative, so it's up to us to manage our own water.
1. Contact your county health department for a report on your local water quality and to learn about any recent violations.
2. Read our guide to Comparing Water Filters to understand the different options you have for getting clean, healthy water in your home.
3. Call 619-356-3766 to speak with a water expert about how you can get the Certified Healthiest Water in your home today.