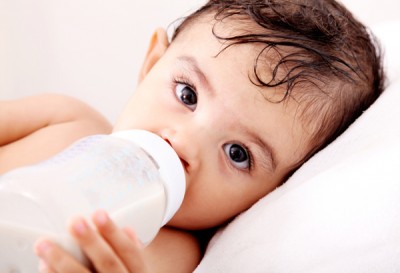 On March 22nd 2014, organizers at Clean Water California held a march and rally in downtown San Francisco urging local water companies and health officials to issue public warnings about the dangers of using fluoridated tap water for baby formula. Their concern stems from the fact that most Bay Area water districts encourage the consumption of tap water, yet do not inform parents that tap water fluoride levels could be harmful to newborns and infants which are more sensitive to this harsh chemical.
Water fluoridation is the practice of adding fluoride chemicals to municipal city tap water for the purpose of preventing tooth decay. This is a very controversial practice since fluoride can be toxic and any dental health benefits that come from ingesting it through drinking water have been largely inconclusive. In fact, some recent studies have associated fluoridated water with reduced IQ in children making it a possible neurotoxin that can damage young developing brains similar to lead and mercury. Parents that use tap water to make formula are often not aware that basic activated carbon water filters, faucet mount filters or boiling water methods do not remove fluoride or that babies are much more susceptible to harm.
According to the Fluoride Action Network, infants receive up to 400% more fluoride per pound of body weight, than adults consuming the same level of fluoride in water. Their underdeveloped kidneys can only excrete 15-20% of the chemical whereas adults can excrete more than 50%. In fact, any chemical, microbial or heavy metal contaminants in the water will be much more harmful to the growth and developmental health of not only babies, but also toddlers and young children, and should be removed.  Fortunately there are water filtration systems that can do just that.
We at Evolution Healthworks make the AURA ALKALINE WATER FILTER which is designed to remove the contaminants including Fluoride, and unlike other systems, the water is then remineralized to make the healthiest drinking water. The filter, is application specific, meaning it is tailored to fit your home's exact contaminant levels and remove them.
Fluoride is a dangerous compound, and whether it is ingested or absorbed through the skin, the compound accumulates in the body and regardless of whether you're a toddler, child, adult, or senior can cause numerous health problems such as dental fluorosis, arthritis, and reduced thyroid function. We recommend everyone to learn more about the benefits of removing fluoride from the water, especially those who have an infant or young child in the home.