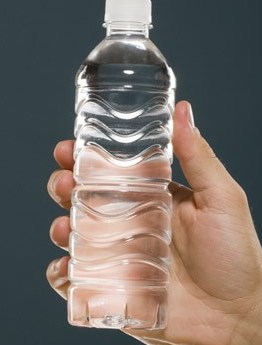 What if you could buy something for pennies on the gallon and sell it for hundreds of times its cost? This is precisely what the bottled water industry continues
to do every day, to the tune of every-increasing profits.
Majestic peaks, serene rivers, sparkling water droplets. You've seen the labels on bottled water; they suggest a pure product worth your two dollars a bottle. Bottled water marketing campaigns make wildly exaggerated claims about purity and freshness. Contrary to what bottled water giants want you to think, tests on leading brands of bottled water suggest a dirtier truth.
Here
are 3 reasons never to drink bottled water again:
1. Bottled water is not safe
Studies by the Environmental Working Group (EWG) and the National Resources Defense Council (NRDC) and a report by the FDA determined that most bottled water is simply repackaged tap water. This tap water is often filtered with reverse osmosis
, stripping it of healthy trace minerals leading to possible mineral deficiencies and other complications.
1 in 5 bottles contain illegal levels of chemicals that can cause disease and other complications over time. Where do these contaminants come from? According to the EWG study, some of the contaminants come from pollutants commonly found in tap water. Others can be traced to the plastic bottles housing the water. Phthalates, chemicals known to disrupt testosterone and other hormones, leach into bottled water while they sit on grocery store shelves.
Thanks to a high-dollar lobbying campaign by the bottled water industry, there is no legal limit on the amount of phthalates in bottled water. Silencing groups looking out for your
health
is obviously a chief concern for bottled water companies.
FIVE BENEFITS OF DRINKING WATER
How does such dangerous water make it onto store shelves? Cunning distribution practices by beverage companies help bottled water evade regulation. 70% of bottled water never crosses state lines, making it exempt
from FDA oversight and putting you at risk of whatever contaminants are lurking in your water bottles.
2) Bottled water is a rip off
Bottled water companies have created a beautiful money-making machine. $1 bottles of your favorite brand of water cost just below 6 cents per ounce, twice as much as it costs to fill up at the gas station and thousands of times more than the cost of tap water. Why do people continue
to spend so freely on bottled water? Behold the power of marketing.
3) Bottled water hurts the environment
Water bottles are recyclable, but we aren't very good at recycling them. 38 billion (yes, billion) water bottles are wasted every year, according to an article in Fast Company magazine. It's important to note that an unknown amount of these bottles never make it to landfills. Massive eddies of plastic trash are trapped in our oceans indefinitely, posing great harm to marine life
.
It's no secret that bottled water produces a lot of waste, but there are a variety of other effects damaging the Earth. According to Food and Water Watch, plastic production eats up more
than 40 million gallons of oil per year, enough to fuel 1.5 million cars for a year. Also, plastic decays very slowly, meaning the vast majority of all plastics ever produced still exist somewhere in the environment.
What can you do?
Stop buying bottled water today. Glass or stainless steel bottles are much safer and don't affect the environment. Evolution Healthworks offers
our Evolution Drink Safe, a 750 mL glass container which can help keep our environment and your
water as clean as possible.