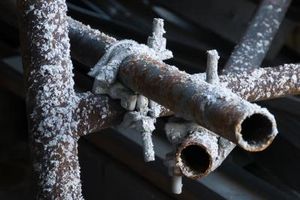 Most people think of water as being a pretty tasteless liquid, however, your tap water can vary greatly state by state, and even in some cases, city by city. Many home owners have chosen to install WATER FILTRATION SYSTEMS to improve both the taste of their water and remove the contaminants.
4 common factors that affect tap water taste
Disinfectant chemicals. One of the most common complaints homeowners have about their tap water is that it tastes like chemicals. The reason for this taste, is that water treatment facilities use chlorine or chloramine (a mixture of chlorine and ammonia) among other chemicals, to disinfect water before it's sent to our homes and flows through our pipes.
Mineral leaching from pipes. Another common complaint about tap water is that it tastes metallic. This is often due to minerals like iron and copper that leach into our water as it travels through public pipes and/or the pipes in our homes. The severity and type of metallic taste in your water will depend on the age and condition of the pipes it travels through as well as the material that those pipes are made of. The infrastructure of the water piping is in serious needs of updates around the country, and in some cases water is flowing through pipes that pre date World War II.
Algae blooms. Algae blooms in source water like lakes and rivers are typically seasonal. When they occur, homeowners are often taken off-guard by the sudden change in tap water taste. The taste imparted in tap water by algae blooms is often described as earthy or musty. This was seen in May of 2014, as the water in North San Diego county was affected by the algal blooms in Poway.
Source of water. The taste of your tap water can change depending on where the water originally comes from. This taste difference is most recognizable between well water and city water, because well water often contains many more minerals that can affect its taste.